My new motto "when in doubt, just add glitter" because every day is a party!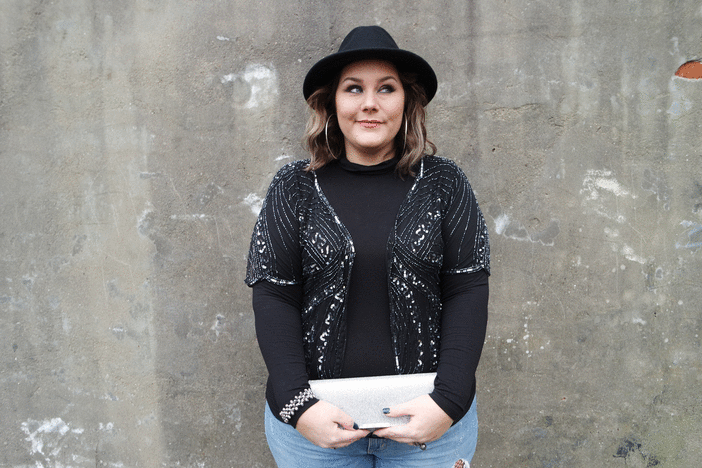 This will be my words to life by in 2017. I'm kind of old fashioned and often think that sparkles & glitter is only for parties? Well, not in 2017 because it's going to be an amazing year and we have to celebrate that. So I am planning to combine my outfits more often with glitter, sequins and sparkles. Why not?
---
---
By combining glitter with denim it becomes a lot more casual. These pair of jeans you've seen often the past year because it's sp comfortable. I really like to combination with the fish net tights, something you see everywhere now. I like this style and I wear it often. Also, I love the casual destroyed denim. I love wearing jeans, too bad there aren't many suitable fitting plus size options around. I love to style it differently, it suits so many different styles. On top I'm wearing a simple roll neck top which I had for ages. The embroidered shrug is so cute, it has a black base and has lots of black & silver stones and sequins on it. It's perfect for a party outfit but dressed this way it's also workable for a daily look.

The shrug is a party item to me but not any more. Combined this way I'd wear it more often, even in spring. I've added the had for a more casual touch, which is the perfect size, not too large. The open shoes are of course not something I wear on a daily basis. They actually fit me very well and -for heels- are actually comfortable. I shopped these at the Curvy Corner Market with German blogger Nicole, from KurvigSchon.
shrug c/o Yours Clothing
top H&M
hat New Yorker
jeans oud
tights c/o Yours Clothing
clutch Kruidvat
2017
black
blogger
curvy
destroyed jeans
fishnet
hat addict
plus size
plussize
sequins
silver heels
Yours Clothing